Podcast: Download (Duration: 29:54 — 52.5MB)
Subscribe: Apple Podcasts | Google Podcasts | Spotify | Stitcher | Email | RSS | More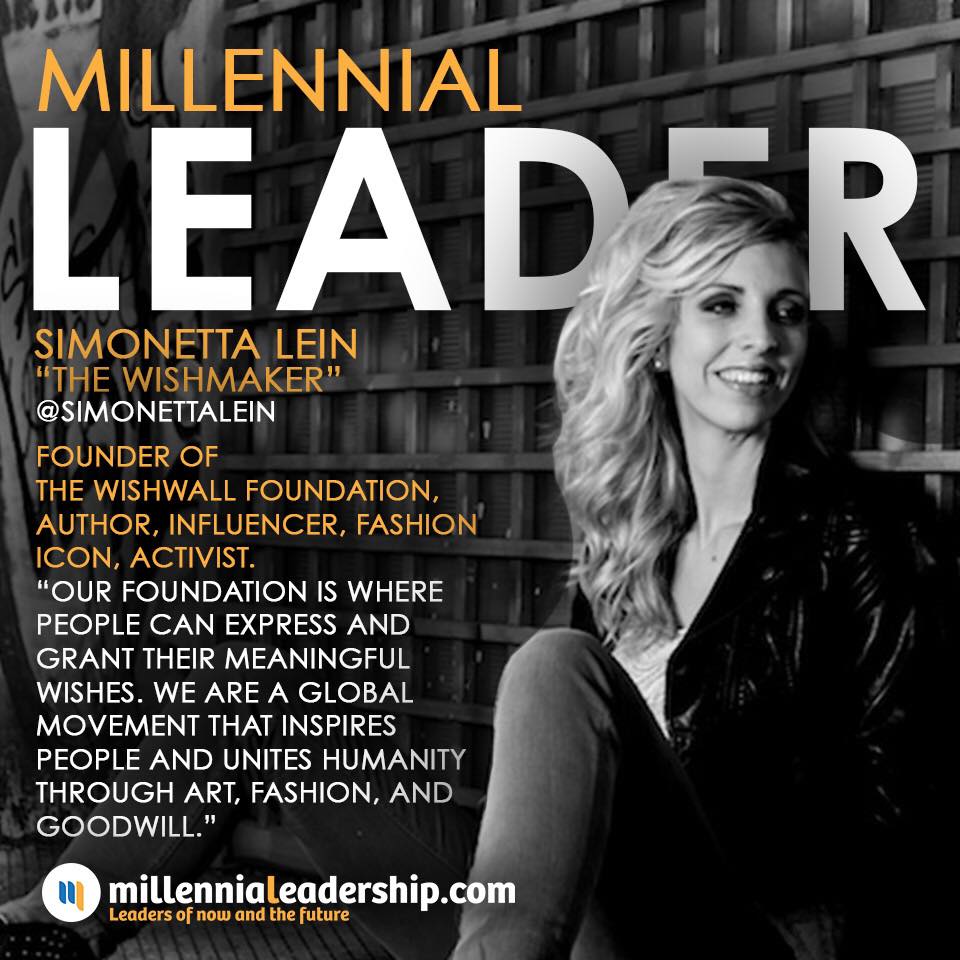 The future indeed looks bright when millennials like Italian-born Simonetta Lein, 34, share life on this planet with us. Those who have seen her on fashion magazine covers, and in the pages within them, may, at first glance, not realize the depths to which this fashion icon's heart and soul go.
In her thus far short time in the world, Lein has graced big-name fashion publications — both as a model and as a writer — beginning with Vanity Fair Italy. Now she is a regular contributor to such fashion staple publications as The Italio Americano, Vogue Italia, Elle Italy, la Repubblica, Style Italy, Destination Luxury, Philadelphia Metro, Splash, Heaven Has Heels, and Pink Trotters. American fashion-philes may have come across Lein's fashion and lifestyle column in The Huffington Post. She is also part of the Forbes Under 30 contributors.
On top of all that writing, Lein maintains her own blog, which is tied to her pet project, which came to fruition in 2015, The WishWall Foundation, where small miracles are born almost every day. The inspiration grew from her 2013 book, Tutto ció che si vuole, chronicling her 2010 travels through India. It was a private journal she showed a friend, who showed a book editor, who wanted it published. The book, now in English (Everything Is Possible: A Novel About the Power of Dreams), is available on Amazon.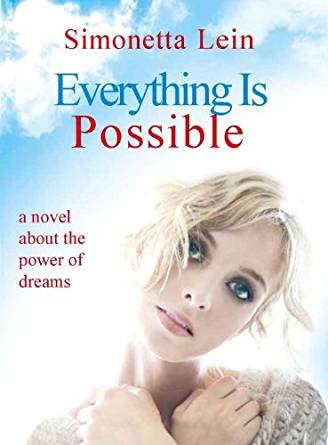 When You Wish Upon A Star
Lein describes her eclectic childhood as "unconventional." In a small, rural Northern Italian town, her homeopathic doctor dad and psychotherapist mom exposed her to a colorful world outside the small-town cultural comfort zone. Her mom established a cultural center which entertained noticeably foreign visitors, shocking the small-town villagers. She appreciates the diversity she was exposed to, though, at the time, she felt out of place, she explained in a recent
LA Splash interview.
Lein also said she was close to completing a follow-up novel. And she's created her own clothing line, along with designer Shahida Parides. She called the limited edition dress collection "ultra-chic and wearable" and complimentary to all body types. Each sale of Lein's clothing shares 30% with The WishWall Foundation.
Since setting up shop in Philadelphia with her husband, Lein works tirelessly to try to live the love that her life and her journeys have taught her. The WishWall Foundation was inspired by her novel about the power of wishes, and operates on the "pay it forward" concept. She wondered what it would be like if there was an actual forum where people could share their wishes and dreams and help each other reach them.
"So, it began as my dream, which turned into a blog, which blossomed into the foundation and online community," she told LA Splash,. Besides the online community, there are physical WishWalls, like the one in Philadelphia that has become a tourist attraction. It was erected, with blessings from Philadelphia's mayor, just before Pope Francis' visit to the City of Brotherly Love. Even he has stood before the WishWall.
"Our philosophy revolves around the concept that when you make a clear and specific determination in your life, you will have an effect. We believe very strongly in the old adage: 'Be careful what you wish for' as the universe will inevitably answer you."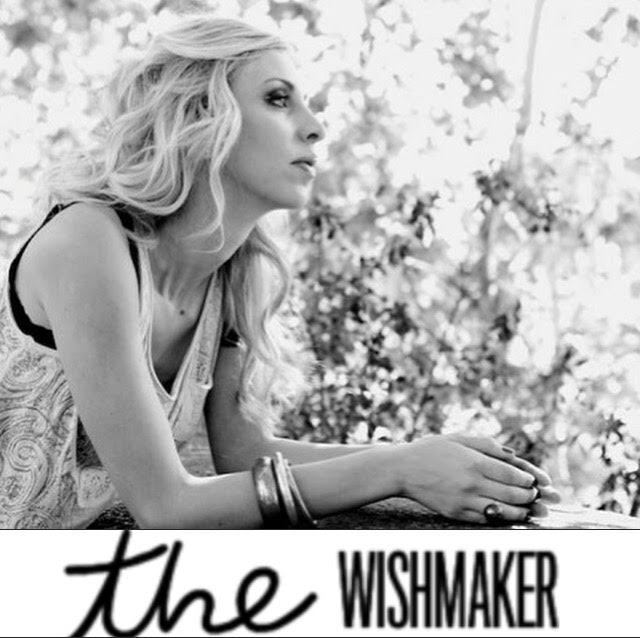 When You Wish Upon A WishMaker Star
One must wonder where Lein gets all that effervescent drive and conviction. She's taken on quite a lot, but she's combined all her passions into a much-needed, well-placed niche. She attributes that to some sustaining attributes in a September 2016 MillenniaLeadership interview.
"I always stayed focused and never stopped challenging myself. I always wanted to do more. I have three degrees and have a passion for personal development. …"
That philosophy, in and of itself, can be a driving force for would-be gurus, healers, philanthropists, and movers-and-shakers alike. But another key quality of gurus, healers, and helpers is humility and gratitude, as she reveals in this Human Experience podcast. Every morning, Lein starts the day with gratitude about what life has taught her. She sees the shortness human life within the bigger picture. We are connected. We are star stuff. Hers is a labor of divine love.
One dream-come-true story Lein and The WishWall Foundation helped to materialize was for Nuri Baresi, an Italian/Brazilian/Tunisian teen, who wrote about his passion for soccer.
"He shared his compelling story of abandonment, extreme financial stress, and bullying," she recalled in the LA Splash interview. "His solace was playing soccer, and his dream was to own a new pair of soccer cleats, as well as a shirt worn by his favorite soccer player, Paul Pogba."
Not long after Nuri posted his dream, Lein said, a community member emailed the foundation and offered to help. They sent Nuri a pair of the best cleats. The foundation contacted his hero's team and they sent him a signed team jersey and invited him to a personal meet-and-greet and team "try out." He was so talented and gifted a player that he was recruited at age 16 to play for his favorite team.
"Like a domino effect, this sequence of events completely changed the trajectory of this kid's future. And it was all due to the availability of a place to post his dream. It's incredibly powerful and inspiring."
Lein's work through The WishWall Foundation earns her the title of "WishMaker." It's a role that fulfills her greatest desire and gives her the most joy — helping peoples' wishes and desires come true. She's about to widen her reach even more with an upcoming TV show about her as The WishMaker, she revealed in a January 2017 Philadelphia Style magazine interview. She is excited about the prospect.
"I want to see The WishWall Foundation spread to every city. So many people are happy and thankful about the work we do, and when you realize your work can be used for the greater good, you know that your limited time on Earth was totally worth it."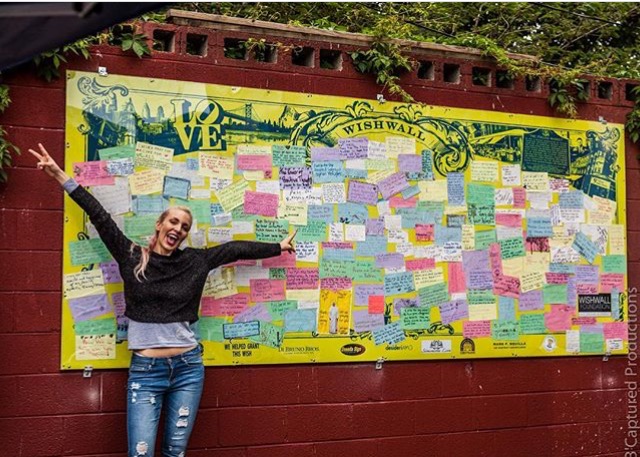 Do you want to help Simonetta help others make their dreams come true? You can donate here.
~The 411~:
We rely on listener support!!
If you value even one of our shows, become a member get exclusive early access to our recordings, extra bonus content for each of our episodes a chance to request guests you want us to bring on and so much more.
Follow us on Twitter where we post some of the most stunning content you will ever see.