Podcast: Download (Duration: 38:02 — 77.1MB)
Subscribe: Apple Podcasts | Google Podcasts | Spotify | Stitcher | Email | RSS | More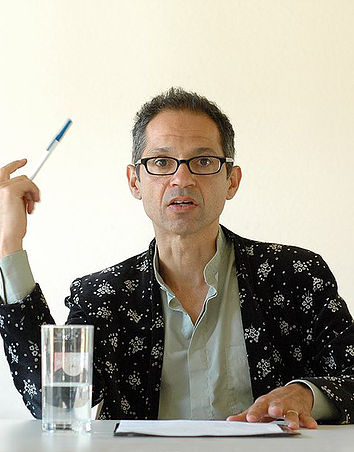 Caveh Zahedi, 56, is an American film director and actor of Iranian descent. His obcure, whimsical films have earned him a devoted underground following. He began making films while earning his BA in philosophy at Yale University. After graduating, he traveled to Switzerland to try to meet and work with famous French-Swiss director, screenwriter and film critic, Jean-Luc Godard, whose career began in 1960. Godard refused to work with him after Zahedi called the film icon at 3 a.m. offering his filmmaking services. After a number of other failed film projects — on subjects like French poets Arthur Rimbaud and Stéphane Mallarmé, and photography pioneer Edward Muybridge — and moving between France and the US a number of times, Zahedi finally settled in Los Angeles and was accepted into UCLA's film school, where he earned an MFA in film and TV production. Zahedi is currently the assistant professor of screen studies at the Eugene Lange College of Liberal Arts in New York City, at The New School annex. He's also a frequent guest lecturer at the School of Visual Arts, MFA Social Documentary Film.
Art Imitates Life
Zahedi has at least 30 films and shorts to his credit, according to the IMDb. His most notable films include:
• A Little Stiff (1991): A film he co-directed with cinematographer/ director Greg Watkins, in which Zahedi re-enacted his unrequited love for a UCLA art student, using the real-life participants. The film received mild critical acclaim, premiering at the Sundance Film Festival, where it was nominated for the Grand Jury Prize. It aired on both German TV and the Sundance Channel.
• I Don't Hate Las Vegas Anymore (1995): An attempt to prove the existence of God by way of a road trip to Las Vegas with his Iranian-born father and teenage half-brother. Zahedi surmised that if God existed, he would provide the events needed to make the film interesting. When that didn't work, he persuaded his father and half-brother to take Ecstasy with him on film instead. It won the Critics' Award at the Rotterdam International Film Festival and developed a small cult following. However, most critics were less than impressed.
• I Was Possessed By God (1998): Dateless on Valentine's Day, Zahedi decided to eat 5 grams of hallucinogenic mushrooms. He claims to have had a "divine possession" experience, in which a divine being possessed his body and spoke through him.
Life Imitates Art
Entering the 21st Century, Zahedi's work continued to deliver his candid — if not sometimes gasp-inducing — snapshots in the life of a creative.
• In The Bathtub Of The World (2001): Zahedi began a 1-year video diary, filming one minute each day for the entire year and then editing it down to 90 minutes. What made the cut are scenes of fights with his girlfriend, taking mushrooms on his birthday and his attempt to evict a flock of pigeons from his apartment.
In 2003, he received the Dahlonega International Film Festival Lifetime Achievement Award.
• I Am A Sex Addict (2005): An honest confessional 15 years in the making about Zahedi's addiction to prostitutes, which he reveals by way of re-enactments, documentary footage, and home movies. He tells the story of his addiction, how it began, the effect it had on his life, and how he overcame it.
Though the documentary was rejected by the Sundance Film Festival and Zahedi tried distributing it himself, I Am A Sex Addict finally received the recognition it needed —  via the Gotham Independent Film Award in 2005, under the Best Film Not Playing at a Theater Near You category. The film was subsequently picked up by IFC. It also won another Critical Selection award at the Rotterdam International Film Festival, and a jury award nomination at the Tribeca Film Festival. (He made a follow-up, The Unmaking Of I Am A Sex Addict in 2008, available on his new box set. See below.)
In 2005, Zahedi also received a Guggenheim Fellowship, a prestigious grant given to those who have demonstrated exceptional creative ability in the arts. And he was also awarded the Rome Prize in 2008, given to emerging artists in all fields of the arts.
• The Sheik & I (2012): In 2011 Zahedi was commissioned by the Middle Eastern Sharjah Biennial to make a film on the theme of "art as a subversive act". He was given free-reign on his film, with one caveat: that he not make fun of the ruler of the country and the financier of the Biennial, the Sheik himself. So what did he do? He defied the request. His irreverent sense of humor didn't amuse the powers that be in Iran. The film was banned in Iran for blasphemy and he was threatened with arrest and a fatwa.
The Sheik & I was, however, widely received in other venues and caused a buzz. The film was nominated for the SXSW Grand Jury Award for documentary feature at the 2012 SXSW Film Festival.
• The Show About The Show (2015 to present): The Show About The Show is a show about making a show and currently airs on BRIC TV. It is a "self-reflexive TV show about its own making (which was its original title), according to Peter Rinaldi of http://filmmakermagazine.com/98212-act-naturally-2/#.WFs975KYXW4″>Filmmaker Magazine. All episodes can be viewed on BRIC TV's Youtube channel. More on The Show About The Show here.
• Bob Dylan Hates Me (2016): This 6-minute animated short documentary recalls the story of when Zahedi met his childhood idol. It received a 2016 Sundance Film Festival Short Film Grand Jury Prize nomination. It is a film version taken from one of his hilarious Awkward Celebrity Encounters podcasts.
With a brilliant mind that meanders through the rabbit hole and turns it inside out, it's anyone's guess where Zahedi's will pop up next — and in what condition.
In this episode we dive into the inverse universe filmmaker Caveh Zahedi.
You won't want to miss this!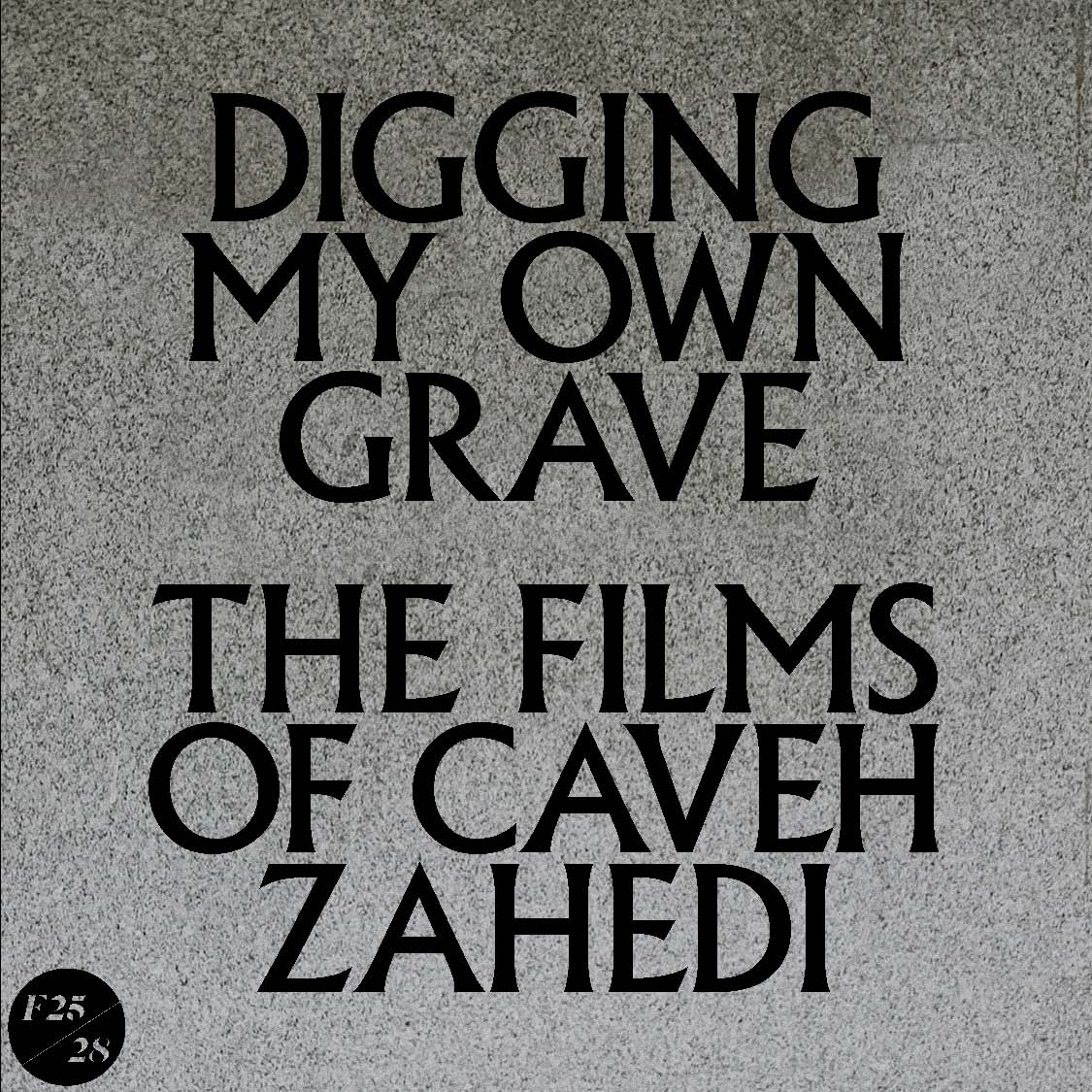 Own your own copy of Digging My Own Grave: The Films Of Caveh Zahedi, the most comprehensive collection of his works, including 36 films, writings by him and his collaborators, 7" vinyl record with songs by Will Oldham and Don Lennon.
~The 411~:
Contact, but not at 3 a.m., or …?
Vimeo, featuring the Getting Stoned With … interviews, as well as other short films.
An article of interest.
Dazed & Confused Magazine.
Digging My Own Grave box set page.
We rely on listener support!! – If you value even one of our shows, help us sustain and scale the show up. Please Donate.
Email us and win a free prize.