Podcast: Download (Duration: 1:26:35 — 59.5MB)
Subscribe: Apple Podcasts | Google Podcasts | Spotify | Stitcher | Email | RSS | More
John Assaraf is a behavioural and mindset expert who helps people to realise their potential for success by working with their brains rather than against them. John has built five multi-million- dollar companies and has been featured in USA Today, Forbes and The Wall Street Journal, alongside appearing on Larry King, The Ellen DeGeneres Show, and in
The Secret
movie, among others.
John is the CEO and Founder of Neurogym, a company that uses the latest technologies and scientific research to help its clients train their brains into abilities that will help them achieve the success they want in life. His book
Innercise: The New Science to Unlock You Brain's Hidden Power
is also written with this goal in mind, educating the reader about their brain and the steps that they can take to hone it into a more effective tool.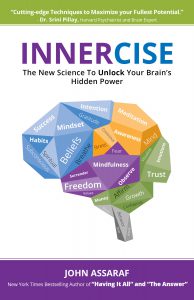 Find John and all of his work just click here:
You will love this episode!
We rely on listener support to keep this show AD FREE – If you value even one of our shows, help us sustain and scale the show up; Become a member  for 5$/mo (a cup of coffee) or Donate.