Podcast: Download (Duration: 53:59 — 123.6MB)
Subscribe: Apple Podcasts | Google Podcasts | Spotify | Stitcher | Email | RSS | More
Richard Grant is a journalist and author whose interest in exploration and wandering has taken him on a number of riveting travel adventures, from traveling across America to dangerous rivers in Africa. Alongside a number of books, Richard has written for a number of publications including Smithsonian Magazine, New York Times and Telegraph UK.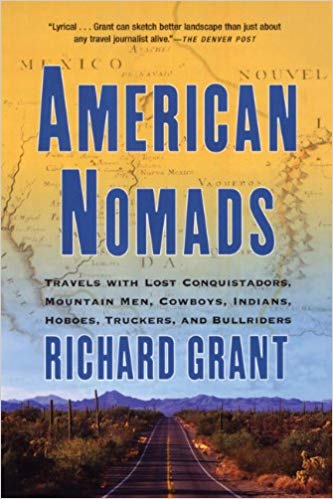 American Nomads, Travels With Lost Conquistadors, Mountain Men, Cowboys, Indians, Hoboes, Truckers and Bullriders (Grove Press, 2003): Richard spent fifteen years wandering throughout the U.S, and in that time he met all manner of America's nomads, from truck-drivers and tramps to rodeo cowboys and retirees in their R.Vs. He uses their lives and his own to hold a magnifying glass over the myths and cultures that wandering life creates, and how this contradicts societie's more "normal" way of living.American Nomadswas also made into a 90 min documentary hosted by Richard himself.
God's Middle Finger, Into The Lawless Heart of the Sierra Madre (Free Press, 2008): Richard visits the lawless region of Sierra Madre, a place from which even the Mexican government tends to keep its distance. Richard details meetings with folk healers, the attendance of strange rituals, treasure hunts, and a scary chase by cocaine-fuelled Mexican hillbillies.
Crazy River: Exploration and Folly in East Africa (Oct 2011) :Richard attempts to make the first descent of an unexplored river in Tanzania: the Malagarasi River, or "the river of bad spirits". Along the way he has to dodge both bullets, and crocodiles, among other things, and then emerges at last, into a war zone.
Dispatches From Pluto: Lost and Found in the Mississippi Delta (Oct 2015):A book which relates the trials and tribulations of Richard and his girlfriend as they decide to move from their tiny New York apartment into an old plantation house on the Mississippi Delta.
This conversation will inform, entertain and enthrall you. 
---
Find Richard and his work HERE.