The Human Experience Podcast – Guest Media Kit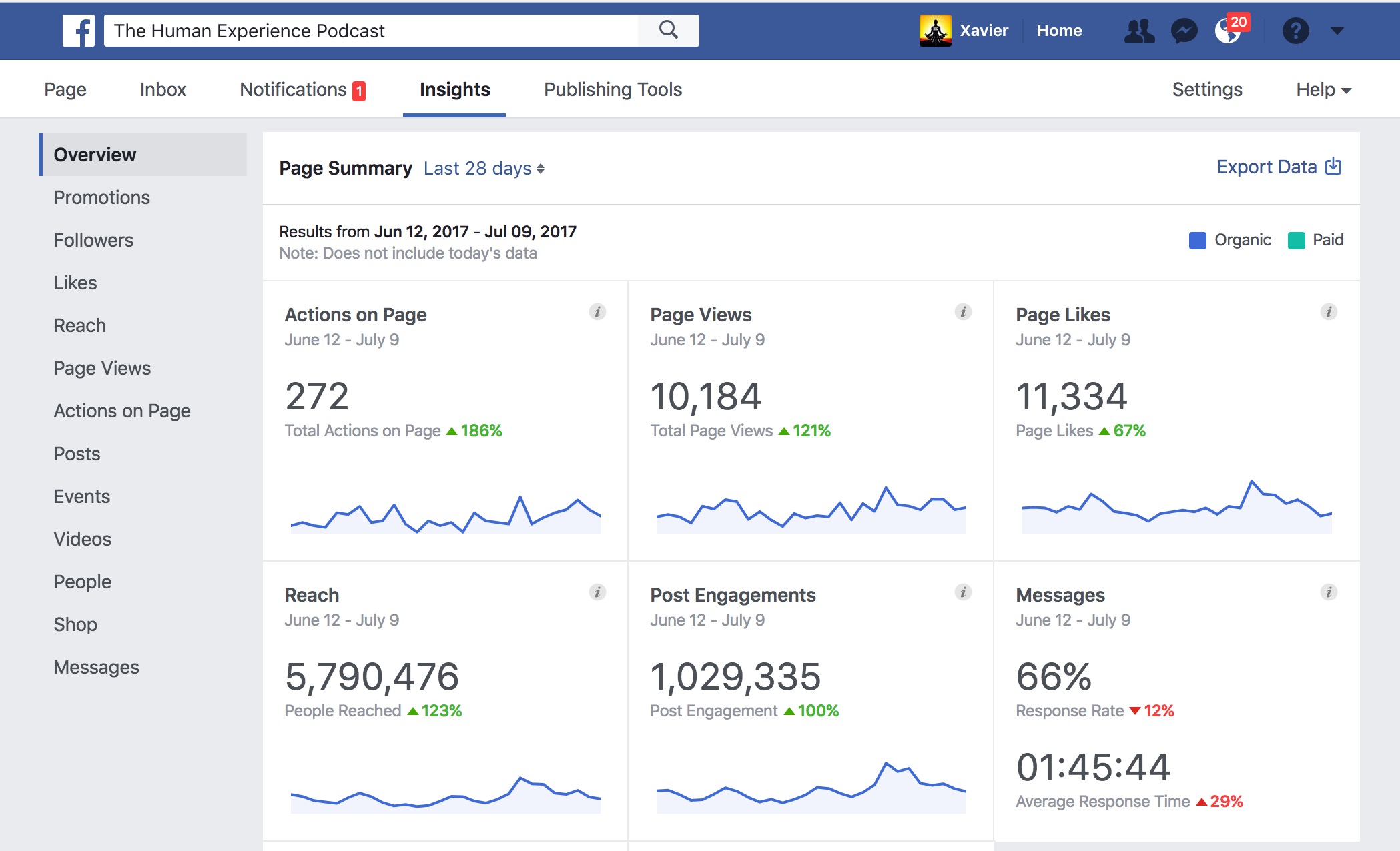 The above images show the astronomic rise of our program;

the top images are the analytics for our FACEBOOK and TWITTER presence(s) respectively and show a total reach of a whopping ~39M/per month. This growth is LOGARITHMIC, we have spent YEARS evolving our platform with resounding results.
 We started this journey in 2014 and as you can see, we are on an exponentially increasing growth curve. We simply don't see these numbers when looking at some of the other media organizations in the industry and our following grows MORE and MORE every day!
 We are readily becoming one of the top radio programs in the world.
This would not be possible without the sheer force of momentum, professionalism and production we put into each and every single episode of our program. We have a strict "best-of-the-best" only policy and we select the most talented influencers on the planet to be part of our show. 
We are delighted you have made the choice to be part of this journey with us as a guest on our program!
We want everything to go smoothly, so these are the things you need to know in preparation for being on our show:
NOTE: We are moving into a LIVE format onto the YouTube platform. This means interviews will happen in real-time as of this summer. It is your option to appear on video or not. Please inform us of your preference when you select the time and date for your appearance on our program.
FREQUENTLY ASKED ANSWERS:
Interviews are recorded, edited, mastered and posted on iTunes/YouTube/Our website

  ~24 hours after recording.

We conduct interviews on SKYPE interviews typically last

60-90minutes

but can last as long as they need to. 

Our Skype Username is:

the.humanxp 

Our phone number in case of any technical difficulties is:

586-894-8626

Interviews are

STREAMED LIVE ON YOUTUBE and AUDIO ONLY

. 
We ask that you have a headset for the show. This is an absolute must and it is essential to achieving the best possible sound for your episode. We want you to sound your BEST for our listeners. Headsets can be acquired very cheaply on sites like Amazon or your local electronics store. An iPhone headset is perfectly suitable for our interview together. 

Any 

cancellations must be given immediate notice

;  (we carry an immense responsibility to our listeners, and our team puts an enormous amount of energy to prepare everything for your time with us. We spend weeks researching for shows, this costs us time and resources). Any cancellations may be subject to a studio cancellation fee. 
Promotion of the show is unequivocally crucial to the growth of HXP.

We kindly request that all guests help promote your respective episode with us

by sharing the episode link with your audience on various social media outlets (Facebook, Twitter, Instagram, mailing list) We will direct you on how exactly to do this when the link has been officially posted.  
---
THINGS TO HAVE SENT TO US:

TWO PHYSICAL COPIES OF YOUR BOOK
ONE COPY OF THE EBOOK VERSION OF YOUR BOOK
ANY PROMOTIONAL MATERIAL

Please make sure to have your publisher send your book or any relevant promotional material regarding your episode to the following address: (We ask that you send multiple copies of your book, one for our team to read and an extra copy which will be used as a giveaway when we run the promotion campaign for your show, if you can have the give-away copy signed, this is also highly suggested).
ZERO GRAVITY MEDIA LLC
PO BOX 272602
TAMPA FL 33688-2602

Note: UPS does NOT ship to P.O. Boxes! Please inform us immediately if this is an issue.
We are incredibly passionate about what we do at HXP. We go above and beyond for our guests and listeners. Thank you for being part of our program. If you have any questions or questions please don't hesitate to contact me at any time.
-Xavier