Podcast: Download (Duration: 54:41 — 75.1MB)
Subscribe: Apple Podcasts | Google Podcasts | Spotify | Stitcher | Email | RSS | More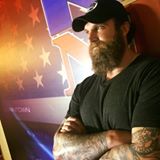 Andrew Marr, 34, a former US Army Green Beret Sergeant First Class serving in Iraq and Afghanistan from 2006 to 2014, found himself medically retired from service due to multiple traumatic brain injuries (TBIs) he accrued while in the line of duty. Years of booms and bangs working as an explosives/demolitions specialist took a toll on his health and his brain, affecting his mental well-being and making his transition back into civilian life difficult and almost a losing battle. After a plunge into darkness set in months after his return, Andrew, CEO, along with his brother, Adam, 32, cofounded the Warrior Angels Foundation" (WAF) to help fellow veterans receive the cutting edge treatment that helped Andrew get his life back.
Long after our veterans return home from combat a battle rages on forever more in their minds. Living under constant "fight or flight" mode for years during their tours of duty wreak havoc on their bodies and their minds. It leads to adrenal burnout when the finite supply of cortisol is spent. Many suffer from Post Traumatic Stress Disorder (PTSD) when they can't transition back to their previous normal lives because of years of heightened alert and threats abound. If there are TBIs involved, the battle is hard-fought, if not hopeless, with traditional methods of myriad pharmacopeia that only mask symptoms, and psychotherapy that cannot even scratch the surface of their mental agony. Far too often these treatments prove worthless, if not detrimental. Shortly after Andrew's return home in 2014 he thought the difficult adjustment would be temporary. Then he started hearing news of fellow special forces vets killing themselves to escape their suffering.
Andrew's initial response to the suicide news was, 'What a coward! How could somebody do that?' It was just ignorance on my part, not fully grasping that," Andrew said candidly in a video interview discussing TBI and the WAF. "And it wasn't till I was at my most rock bottom, having panic attacks, anxiety attacks, being depressed… I found myself on 13 different meds. I was an alcoholic and contemplating suicide. Then I thought, 'This is how it happens!' …"
Shortly after, his own 6-month downward spiral began, the symptoms were physical — chronic fatigue, blurred vision, balance and hearing issues, migraines and double vision. Then there was the pulmonary embolism and other physical issues that ate away at his physical prowess. Then the plunge into mental darkness began. His wife, Becky, carrying the couple's fifth child — due any day soon — watched her husband grow farther apart from the family with his boozing and mental deterioration. She asked that he please curb his drinking in case she went into labor and needed a ride to the hospital.
For a while, the family kept up the charade that all was well, until Andrew finally snapped and could only sob during a phone call with his brother. Adam could not stand by and watch his big brother, a family man, self-destruct before his eyes. (Though Adam served 9 years in Iraq as an Apache helicopter pilot, he was not rattled by TBI.) He passed up a promotion to Major, retired from the Army and joined with his brother. In 2015 their paths crossed with Dr. Mark L. Gordon, a neuro-endocrinologist, who was working successfully with a revolutionary treatment using state-of-the-art technology. Gordon's treatment proved miraculous for Andrew, who began loving his life again. Together Andrew and Adam, working with Dr. Gordon, cofounded the WAF. They formed a working coalition with Gordon's Millenium-WAF TBI Project clinics to help reach other veterans suffering through PTSD/TBI and bring this miracle to them so that they too may find the lives they lost.
Dr. Mark L. Gordon, a neuro-endocrinologist, saw beneath the surface of PTSD/TBI and expanded his protocol for treating what he calls TBI Neurosteroid Dysfunction Syndrome. The Millennium-WAF TBI Project works with Access Labs, using mass spectrometry for deeper look into the injured brains of US veterans. Gordon's research found that when neurosteroids (hormones produced in the brain) were missing in TBI patients, their quality of life suffered greatly. Part of Gordon's protocol is to replace and replenish those missing hormones. The results have proved miraculous for many others.There are 1,300 documented cases through Dr. Gordon's Millenium TBI network. Since January 2015 the WAF and Gordon successfully helped 100 or so vets get their quality of life back. All find the work rewarding, as well. "What I love most about WAF is hearing the results that we get from our guys —," Andrew says, "phrases like, 'I'm living again!', 'My family loves me!', 'I have a purpose!', 'I've come off all my medications!' So for someone who's gone from no quality of life to having a quality of life — that's the most rewarding thing to me."
Testimonials of recovery from vets and their families keep racking up on Gordon's Millenium TBI Project website, which also has an application for vets to receive treatment. Perhaps the most miraculous part about this promising treatment is that Millenium-WAF TBI Project brings the lab to the patient if they are immobile or too far from one of the lab facilities — and all at no cost to the veterans or their families! The Millenium-WAF TBI Project plans by 2020 to have 500 doctors trained in Gordon's protocol for TBI, and they are focusing on getting academia to review their protocols and their success. Dr. Gordon and the Marr brothers consider it a thank you gift to express their appreciation for all that our veterans have given us.
In this episode we cover the various aspects of Traumatic Brain Injury. We discuss Andrew's harrowing story and so much more.
You will enjoy this episode!
Support the life-redeeming work of the Warrior Angels Foundation
Show the WAF some Facebook love by clicking here and liking their page.
Warrior Angels Twitter: @WarriorAngelsFoundation
#WarriorAngelsFoundation
#UntilThereAreNone
Find the Warrior Soul Podcast: HERE.
STATS and further reading about veterans and PTSD/TBI:
The number of members diagnosed with TBI since 2000 is an astounding 352,619, according to Defense & Veterans Brain Injury Center, DoD statistics It is said that 22 veterans a day commit suicide. There are more numbers here.
Rand Corporation, a non-profit research organization providing objective analysis and effective solutions that address the challenges facing the public and private sectors around the world. Rand released a sobering September 2015 report, cited on the Veterans and PTSD website, "Veterans Statistics: PTSD, depression, TBI and Suicide", which includes a link to a downloadable 499-page PDF examining the ugly mental and physical statistics of war and its toll on our soldiers and veterans. Not happy reading at all.
We rely on listener support!! – If you value even one of our shows, help us sustain and scale the show up; Become a member for 5$/mo (a cup of coffee) or Donate.