Podcast: Download (Duration: 29:35 — 40.6MB)
Subscribe: Apple Podcasts | Google Podcasts | Spotify | Stitcher | Email | RSS | More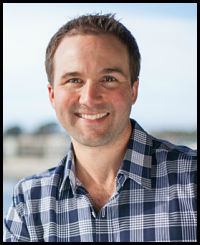 John Lee Dumas, 36, founder of the daily Entrepreneur On Fire (EOFire) podcast, seems to have pulled his 7-figure annual income from out of thin air … literally. When he's not busy with his highly popular podcast, he's writing books. In his spare time, he's helping others achieve their life's goals. After success with his January 2016 The Freedom Journal: Accomplish You #1 Goal In 100 Days, his new release is set for January 23, 2017 — The Mastery Journal: Master Productivity, Discipline & Focus in 100 Days. And in his downtime, he runs an ongoing academy for would-be podcasters.
Lifestyles of the Rich & Famous
Sometimes you come across a bio that reads like lines out of a "Lifestyles of the Rich & Famous" script, complete with a Robin Leach voice-over channeling a narration to the echo chambers of your mind. John Lee Dumas has one of those kind of bios. His is not a rags-to-riches tale, per se. He was a driven youngster, even bagging an ROTC scholarship to college, graduating as an officer and serving a 13-month stint in Iraq as a platoon leader. He went through the motions, doing what he thought he was supposed to do. But somehow he knew things weren't cosmically right for him.
When he returned stateside, he moved around changing careers in the 13 colony states, before deciding to pack up and head out west to join the real estate rat race. The seemingly endless loop of commuting made it feel more like a crawl than a race, so he passed the time with radio. He started with NPR. Then a friend recommended podcasts — commercial-free, homegrown content on every subject under the sun freely available on the internet airwaves. Dumas was hooked! Learning while commuting made something positive out of those dreadful commutes. Yet, his commuting hours outnumbered the hours of available podcasts in his favored genre. He noticed that no one out there was doing a daily podcast to satiate podcast junkies like himself. So he went and did it himself.
When EOFire launched on September 22, 2012, Dumas was a complete podcast virgin. He found his niche in the wild and untamed podcast airwaves by interviewing entrepreneurs and up-and-comers. People craved the info he was putting out there. Now, with 1,500+ episodes behind him, his podcast boasts 40+ million listens, holds Best of iTunes 2013 title, and generates a monthly income in the hundreds of thousands of dollars. (November 2016 … a whopping $205,459 … for having fun at work! Sign me up!) Fortunately, Dumas enjoys sharing his secrets to success with anyone who can keep up with his infectious high energy.

Livin' Large In A Tropical Paradise
So, what put the fire under Dumas' … ahem, feet, to blast him off into financial independence and freedom? How does he conjure just a <em>teensy</em> bit of envy seeing a picture of him toasting you with an exotic drink from his sublime Puerto Rican paradise balcony? He says he came to a point where he felt empty driving his life away doing something he wasn't all that thrilled about. "I was still struggling — financially, mentally, physically. I had no passion, no purpose and no vision for my future."
Dumas' military experience helped him hone his goal-setting skills and he shared them in his Freedom Journal, which he calls "an accountability partner — an important assistant keeping you on task with your goal. His formula for SMART goal-setting: S=specific; M=measurable; A=attainable; R=relevant; and T=time-bound. In his classes he breaks it down to the minutiae, because really, it's all about focus, intent and perseverance — stick-to-itiveness. And with proper focus and time management, there's always time for play. EOFire HQ in Puerto Rico provides a beautiful backdrop for Dumas' recreating.
In the upcoming January 23, 2017, release of The Mastery Journal, Dumas took down what he learned in his interviews with thousands of entrepreneurs from all over the world. "I found out the reasons they succeed and why others fail," he said. He's narrowed success stories down to the Big 3: Productivity, Discipline, and Focus. Undoubtedly, future entrepreneurs have their homework cut out for them when they embark on their journeys with Dumas and his laser-fine, sharply focused mind. But he promises to be there if you temporarily veer off course. He looks out for his tribe. It's what drives his passion.
In this episode I go over some of the key episodes for 2016, a history of the podcast and finally we interview John on how to make a blockbuster podcast.
Let John Lee Dumas' infectious optimism fan the flames of your passion.


Pre-Order your copy of The Mastery Journal here.
JLD Links:
JLD's Twitter
8 Ways To Monetize By Podcasting $20 course here
We rely on listener support!! – If you value even one of our shows, help us sustain and scale the show up; Become a member for 5$/mo (a cup of coffee) or Donate.
Email us and win a free prize!
Qualify for our nifty, super fantastic giveaway!